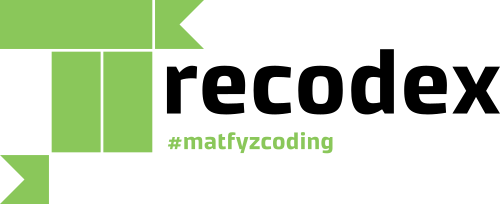 What is ReCodEx?
ReCodEx is a system for dynamic analysis and evaluation of programming exercises. It is a set of components, which allows assigning practical programming problems to students by their supervisors through web interface. After solving the problem students upload their solution to the system and ReCodEx automatically evaluates them (typically checking correctness of program output) and assigns corresponding amount of points. Students have quick feedback about their solution and supervisors does not have to manually check each solution for basic correctness (like that the program compiles and gives correct results in reasonable time).
About
ReCodEx was born in 2016 as final work for Software project class. It is replacement for old system CodEx used at MFF UK since 2006. The project is opensource under MIT licence hosted on GitHub. More detailed info is on Wiki page of the project.
During development was found number of topics for following student works of different kinds. In case of interest in make this project more awesome, please contact one of the authors or teachers.
Acknowledgement
This project was supported by the Student Grant Program (SFG) of the Faculty of Mathematics and Physics, Charles University.